Self-Guided Best of the Dolomites
This self-guided loop through the Gardena Valley is our favorite week in the Dolomites
Self-Guided Best of the Dolomites
This self-guided loop through the Gardena Valley is our favorite week in the Dolomites
Activity Level

Moderate to Challenging

,
The Dolomites are even prettier than you have been led to believe. They really are.
You'll find flower-filled meadows tucked against breathtaking pink and yellow cliffs. Charming, sunny villages with trails radiating in every direction. There are easy walks and sturdy, rugged hikes into rocky peaks with a cozy hut just where you need it. It's a cultural delight with tidy Tyrolean hospitality and hectic Italian charm, and it's perfect. Each day is another great hike to a welcoming inn, followed by a 5 course feast with local wine. A striking sunset. Relax. It can't be beat.
If you don't have time for our full Dolomites Traverse, this 6 night circuit of the Gardena is a great way to spend a week in the Dolomites. Visit beautiful villages and fantastically scenic huts. Striking mountains, fresh air, cultural charm and memorable cuisine. It's everything you want in a hiking tour.  The best of the Dolomites.
This tour is not available in late July or August, when 1-2 night bookings aren't possible.  Check out our self-guided Great Hikes of the Dolomites tour for a mid-summer trip.
Itinerary At a Glance
Days 1-2
Ortisei
Ortisei is a perfect starting point, a sunny village with a pedestrian-only core in the fantastic Val Gardena. Miles of hiking trails radiate in every direction. After a scenic day hike above town, you'll then head to the Alpe di Siusi, the largest alpine meadow in the Alps.
Days 3-4
Schlernhaus to Plattkofel
You'll do a three-day hike across the Alpe di Siusi, first up to the historic mountaintop Schlernhaus hut. After a peaceful night among the stars, you'll spend an unforgettable day traversing to Plattkofel, a beautiful, newly renovated lodge at the base of an impressive mountain.
Days 5-7
Selva
Rolling trails loop you from Plattkofel to Selva, the highest village in Gardena valley. Another great day hike to a high alpine hut caps your time in the Gardena valley, with gorgeous views all around. We'll book a private taxi to take you back to Bolzano for departure.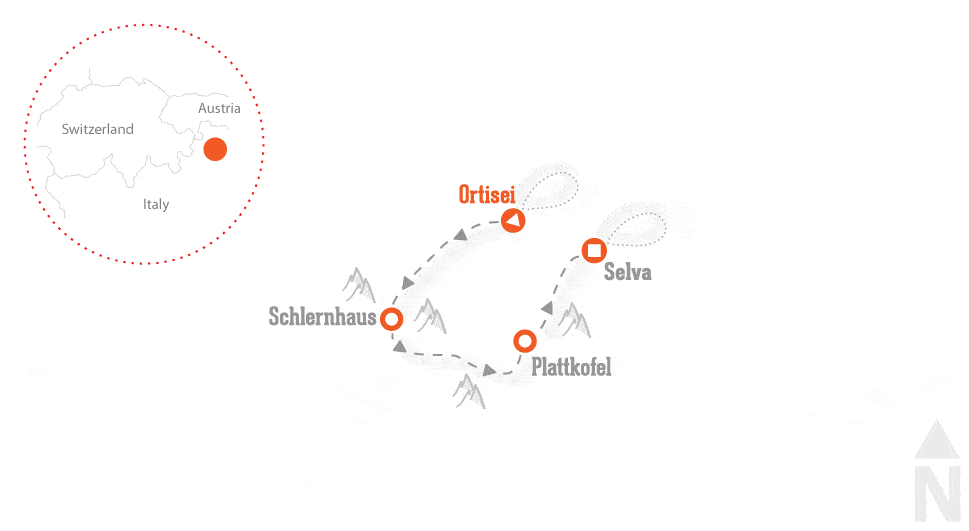 Included
Your tour includes 4 nights in 3-star village hotels and 2 nights in mountain lodges with private rooms.  4-star upgrades are available. We include all breakfasts and 4 dinners. Luggage transfers between villages are included, as well as private taxis from Bolzano to Ortisei and Selva back to Bolzano. You will also receive topo maps, detailed route descriptions, gps routes and sightseeing suggestions. We are always available by phone if you have questions during your tour.
Full Itinerary
Day 1
arrive Ortisei
Arrive in Italy and make your way to Bolzano, a beautiful small city surrounded by vineyards and filled with plazas and museums. Bolzano's natural history museum is home to the famous Ötzi iceman, and it's worth spending some time here to see the museum and other nearby attractions.
We'll have a private taxi meet you in Bolzano and take you to Ortisei, a beautiful town surrounded by the stunning scenery of the Gardena valley. Enjoy a wonderful welcome dinner and settle in to your comfortable and friendly 3-star hotel for the night.  Dinner will be on your own in Ortisei.
If you like a bit more comfort, ask about 4-star upgrades in Ortisei and Selva.
3-star Hotel Cosmea or similar
Day 2
Ortisei, hike to Brogles hut
Today's hike starts with a funicular train ride to a ridge high above town, and take a dayhike through high scenic meadows to the Brogles hut, where you can scan practically the entire Gardena valley and gaze upon the jagged needles of the Puez-Odle peaks.
In the evening, spend some time exploring town. Ortisei is a beautiful village with shops and cafes lining their cobblestoned, pedestrian-only main road. Your stay also includes entrance to the Mar Dolomit pool and spa, a great place to relax after a vigorous hike.  Dinner is again on your own in Ortisei.
HIKE: 5-6 hours, 8 miles; Elevation: 1180 ft up, 2360 ft down
Day 3
Schlernhaus hut
After a relaxing morning, begin today by ascending a gondola to the rolling green hills of the Alpe di Siusi (called Seiser Alm in German), the largest mountain meadow in the Alps. After a mellow crossing of the meadows and an unforgettable stop at the lively Gostner Schwaige restaurant for lunch, with perhaps our favorite Kaiserschmarrn in South Tyrol.  After hearty meal, continue across the Siusi meadows and up the steep ascent to the peak.
Finish the day at Schlernhaus, an historic mountain inn atop the mighty Schlern peak, with breathtaking views in every direction. Trails radiate from the hut for optional walks to even higher views. Schlernhaus is fairly rustic, with private rooms, and bathrooms down the hall. Their beautiful dining room is a cozy place to relax in the evening enjoying a night high in the Dolomites.
HIKE: 5-7 hours, 9 miles; Elevation: 2670 ft up, 1220 ft down
Day 4
Plattkofel hut
Off to the next lodge, you'll make a moderate high traverse toward the towering Sassolungo mountain group. The trail provides stunning views of the famed Catinaccio/Rosengarten group enroute, with the Tierser hut as a perfect lunch stop.
Plattkofel hut is tucked at the base of the pyramidal peak it is named for, and an optional trail leads to the top, if you are in the mood for an energetic day. Plattkofel hut is a very comfortable mountain inn, with cozy private rooms and hot showers, and a quiet ambiance that encourages relaxation.
HIKE: 5-7 hours, 8 miles; Elevation: 1640 ft up, 2140 ft down
Day 5
Selva
Today you traverse around the northwest corner of the Langkofel Group, towering in stark relief over the Alpe di Siusi. You'll spend the day winding your way through boulder fields, grassy meadows, and spruce-larch forests.  Stop at a mountain hut for lunch tucked inside the mountains, before walking to a cable car that brings you down to Selva.
A more strenuous optional trail leads right through the heart of the mountains, crossing a high pass in the middle of steep cliffs, and is a fun, dramatic detour for those looking for a challenge.  We stay in a cozy 3-star hotel in town.
4-star upgrades are available if you are looking for a more luxurious stay.
HIKE: 5-7 hours, 7 miles; Elevation: 2030 ft up, 2230 ft down
3-star Hotel Krone or similar
Day 6
Selva, hike Puez-Odle park
Today you'll hike up to explore the high Seceda meadows below the dramtic Puez-Odle mountain group, perhaps stopping in at the Regensberger or Stevia huts along the way. There are dozens of criss-crossing trails through this area that invite exploration, and all boast unforgettable views of the region.
In the evening, you can unwind and enjoy the delicious cuisine at your tasteful village hotel.  Many of our Selva hotels include small spas if you would like to relax before your final dinner.
HIKE: 6-8 hours, 9 miles; Elevation: 3600 ft up, 3600 ft down
3-star Hotel Krone or similar
Day 7
depart
After breakfast, your taxi driver will meet you at your hotel to take you back to Bolzano.
You Might Also Like
A great choice for anyone, and especially for early-season hikes, families, and people of varying abilities…
Explore the Dolomites of Gardena and Alta Badia, an inspiring landscape of enormous limestone towers, colorful wildflowers, and lush green...