What makes a hotel in the Alps truly great? It might be the gourmet restaurant, the superb wine selection, the panoramic view…  Combine a few of these features all in the same hotel, and you've got yourself a great place to stay.  Every so often, we find a hotel that is somehow greater than the sum of its parts.  It has all the features to be expected, plus an extra something that makes it stand out as truly exceptional.  This series is about highlighting the hotels that rise above the rest.  
History of the Hotel Grones
Perched on a south-facing hillside in Ortisei, Italy, the Hotel Grones has a sunny, quiet, relaxing atmosphere.  It's close enough to walk, but tucked just enough away from the bustle of the village center to make it feel like a real getaway.  Originally built in 1933 as the Villa San Giuseppe. The grandchildren of the original owners converted it to the Garni Grones in the 1970's.  Wilfried and Monika Grones later expanded the small bed and breakfast in 1989. Then in 2007, with added energy from their daughter Nadia and husband Roman, they revitalized again to create the current four-star hotel on the same site.  Through all of the Grones' evolution, the family has artfully managed to expand their offerings without sacrificing any of the intimacies of a small B&B. 
Craftsmanship and Service Make the Difference
In addition to the extra rooms and a style update, their most recent renovation includes a new restaurant and a very nicely-done pool and wellness area.  Roman is a renowned chef. The care he takes to incorporate local ingredients into his traditional Tyrolean and Mediterranean cuisine is masterful.  The huge dining room windows add to the ambiance with long views across the Val Gardena. 
I can, admittedly, be a bit of a sauna snob – having grown up with weekly attendance to a private Finnish-style sauna – and I have to say, I'm pretty fond of theirs. 
Overall, the craftsmanship throughout the rooms, the bar, and reception area is handsomely done.  I'm a sucker for the way exposed timber construction and rustic woodwork make a space feel immediately comfortable. But the feeling of comfort is more about the quality of service and atmosphere Nadia and her family create.  It's maybe the most authentically warm welcome I've had in any hotel. That's why I tell so many of our guests it's my favorite…anywhere….period.  I'm not sure how they hire and train staff, but their ardor permeates the whole experience of the place.  And not just in the kind of way that a bartender will smile, remember your name and what you like to drink.  
A Classic Dolomites Traverse Tour with a Twist
To give you a taste of just how the magic of this place can be, let me share a story. A few years ago, I was guiding our Classic Dolomites Traverse Tour with a group that hit it off particularly well.  Dinners regularly became highly amusing affairs.  One evening, after a long hike up and around the Seceda meadows, we spent the sunset hour on the terrace joking around with Stefano, our charismatic bartender. At dusk, we moved to the Grones dining room where the mood was buoyant and seemed to be building.  
A Song for the Hotel Grones
Unbeknownst to me, this group had conspired to write a ballad of sorts. An ode to the good time had by all thus far into their Dolomites journey. On this night, owing perhaps to the aperitif, the latter half of dinner seemed like the appropriate time to showcase the new work.  At first I wasn't sure whether I was shocked or embarrassed. I started looking around to see how the waitstaff was reacting, half expecting to be scolded for making such a scene in their very nice (usually quiet) dining room.  
I lowered myself a bit in my chair, resigned to endure a cheesy summer-camp-counselor-type skit. But it turned out to be hilarious.  These guys were killing it and hitting some real comedic gems.  We laughed hard.  By the end, everyone in the restaurant was clapping and cheering them on. The entire waitstaff came out to give them a standing ovation. 
Just as I thought things were settling down, Stefano (who had moved over from the bar to wait on us) came back with the dessert menu.  We had met and chatted over drinks a few times before that summer, but it was now that I learned he had been trained as an opera singer before coming to Ortisei to work at the hotel.  At that moment he burst into a most enthusiastic rendition of 'O Sole Mio' a la Luciano Pavarotti.  The dining room fell apart into applause and wild laughter all over again.  This time we stood for the ovation as he brought us the dessert.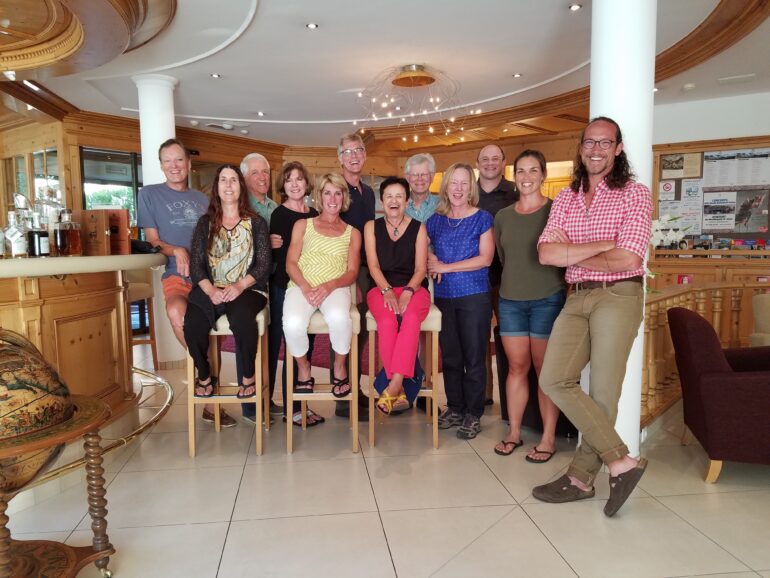 Perfect Timing in a Perfect Place
The evening finally wound down and we all retired to our rooms resting up for another day on the trail. I thought that it would be rare for this to have happened at a different hotel.  It's possible, I guess, but would require a recreation of the same kind of energy infused in the place by the Grones/Feichter families over the years.  This hotel is more than a place to just stay the night, it's a place to settle in for a visit.