Staying the night at the historic Berghotel Obersteinberg is a highlight for everyone on our Bernese Oberland tours. It's peaceful, beautiful, and inspiring. And the fresh mountain air is the perfect antidote to the crazy pace of life these days.
The rooms are simple and absolutely charming. Private bedrooms come cleanly made up with thick, fluffy duvets, a little side table, porcelain washbasin, and a candle in case you want a little extra light.  There is no electricity, and the cold-water bathrooms are located down the hall.  All rooms come standard with gorgeous waterfalls views, as the Schmadribach falls is right out the window directly at eye level across the valley! This is a prime hiking destination above Lauterbrunnen, and to arrive at a cozy inn after the long uphill adventure is a real treat. 
Family Business
Obersteinberg has been in the same family for generations and is run by two sisters, Dori and Manuela von Allmen. And lately, Manuela's son Julian has started taking a more active role at the guesthouse. They can be a little stressed at times and maybe aren't overly effusive, but you'll find them to be professional, hard-working and efficient. Until recently the cows were tended by their brother Hans with his American wife Vicki. This is truly a family-run operation.
Go Ahead, Eat the Tart
Once you've arrived at Obersteinberg, you'll find the normal plugged-in life just doesn't fit in this setting.  Instead, you're tugged more into your immediate surroundings.  Hang out in the lounge and dining room with a drink. Play some cards or chat with the other guests. Or, if the weather is good, sit outside at one of the picnic tables and marvel at the panorama spread out before you. By the way, if they have pear torte on hand, order a big slice "mit Rahm" (with whipped cream), for the best post-hike recovery snack in the Alps. Your doctor would approve!
Dinner at Obersteinberg
Dinners are a communal affair. At 7 pm, they'll ring the dinner bell. You'll likely be seated with others as you are treated to a hearty all-you-can eat buffet of soup, salad, meat and some kind of starch.  It's not fancy, but it's always delicious, and you'll never leave hungry. Milk, cheese and butter all come from the cows outside. Afterwards you can hang out in the lounge area, or take a short walk. Especially in early summer when it doesn't get dark until 9 or 10, this can be the magic hour.  Afterwards, it's off to bed, in one of Obersteinberg's cozy, Victorian-era rooms.  You'll feel right at home.
Good Morning!
After a blissful sleep, you'll wake to cowbells and a simple breakfast of bread, jam, cheese and coffee. Before leaving, wander over to the barn to check out the cheese-making operation. They still make everything the traditional way – cows milked daily, milk and rennet heated slowly in a copper cauldron over a small fire, the farmer scooping out huge bags of curd with cheesecloth and then pressing it under a giant stone weight. This timeless process is the very heart of Swiss culture, key to survival for a subsistence farmer in this remote environment.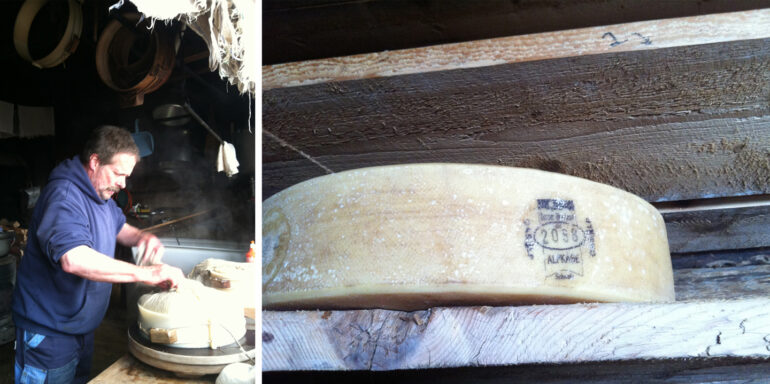 How to Make Reservations to Stay at Obersteinberg
You'll want a reservation before heading up to Berghotel Obersteinberg. Even though their remote location cuts down on traffic, they only have a small number of rooms. So Obersteinberg can fill up, especially on weekends when they are a popular destination for Swiss families. Since they don't have a website and they only take reservations by phone, be sure to call after breakfast and before dinner: +41 33 855 2033 when they're at the inn in summer, June through September.
And, of course, if you'd like us to arrange your stay, please join us on the trail! Check out our Guided and Self-Guided Bernese Oberland Traverse tours. We will be happy to set you up with a vacation like no other.