Foreign language, beauty, culture, cuisine, and hospitality are just a few things that come to mind when reminiscing about my adventure along the Tour du Mont Blanc Northern route this past August.  My role at Alpinehikers is 'Switzerland' so when it comes to France or Italy, I've spent much less time exploring their famous through-trails. When Troy Haines, the owner and founder of Alpinehikers, suggested that I spend a few days along the notorious Tour du Mont Blanc route this past spring I was quick and boisterous in my response: YES, PLEASE!  
I live for long, physically demanding and intellectually stimulating hiking trips.  The longer the trail, the more foreign the language, the more different or remote the feel, I'm in hiker's heaven.  After spending 5 days along our Best of the Tour du Mont Blanc, the northern route that begins in Courmayeur, Italy and ends with a departure from the main trail back in Chamonix, France, my expectations were far exceeded. I've spent my share of time in the Alps and have felt at times desensitized to its jaw-dropping beauty, but in my abbreviated time along this route, I was like a kid in a candy store. With its thick history dating back to the Romans, daily views of majestic glaciers dropping their ice and melting water into valleys below, and its heavy international feel, I was consistently grateful to be hiking this world-renowned trail.
The mountain passes along the Tour du Mont Blanc are unlike any others I've experienced.  Numerous points along the tour, the trail leads you higher and higher into a large cirque looming above the valley floor eventually cresting onto a ridge line where you are welcomed by a different country with unique history, new greeting (Bongiorno, Salü, Bonjour), yet still a shared passion for this majestic landscape. Interestingly, even the trails are maintained differently as you traverse borders.  In fact, it's possible to tell when you're back in Switzerland by how detailed the trail maintenance is, including (from my experience) their meticulous grooming of the painful stinging nettle plant which isn't as carefully trimmed in Italy or France. 
There are limited places in the world where you can step into a unique micro-environment of thru-hikers such as this where people speak dozens of different languages, carry unique expectations and ambitions, yet all the while find solace and friendship along a special meandering route such as the Tour du Mont Blanc.  And all while circumnavigating the highest mountain in the Alps, the 15,781 foot Mont Blanc.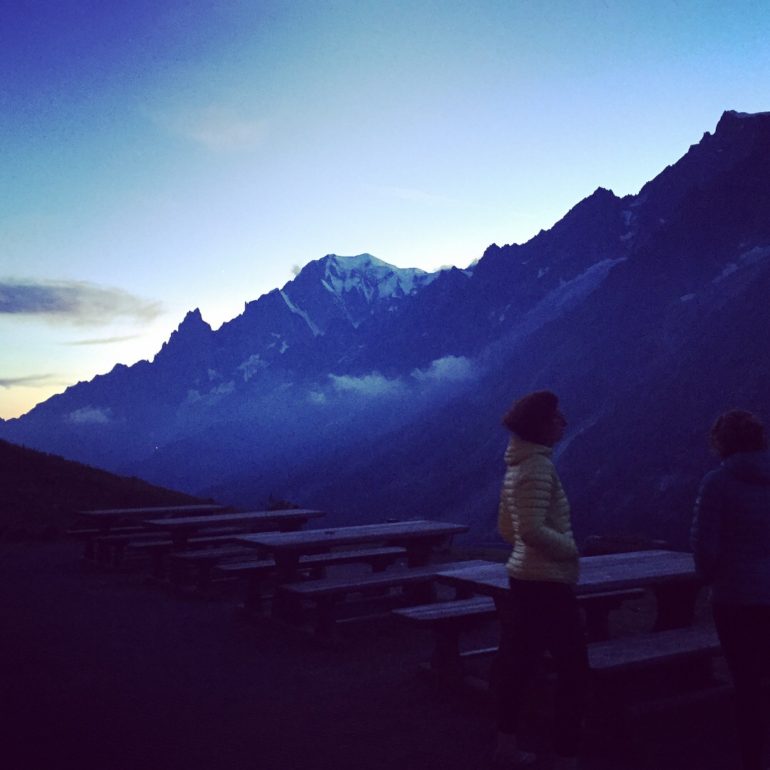 Despite walking daily through small and sometimes very isolated mountain villages and remote mountain inns, the Tour du Mont Blanc has a global feel.  People have traversed these trails for thousands of years and although goals have changed, the pursuits remained the same; travel, exchange, meet, greet and at the end of the day sleep in a warm bed, eat delicious food and share this experience with good company.  This past August we found ourselves enjoying the trail with similar people each day. By the 2nd or 3rd day of the Tour we knew most hikers by name, shared a competitive card game before dinner, partook in a group recap of the day's hike while sharing family style plates (depending on the location and lodging), and a group trail plan for the following day.  
Depending on your lodging schedule be sure to visit the small mountain huts along the trail.  Rifugio Bonatti, Rifugio Elena, Refuge du Lac Blanc and others are sure to offer a hot drink, lunch of some kind and delightful desserts.  Rifugio Elena offers the most delicious chocolate pie and hot coffee to brighten up the rainiest of days along the trail, and despite serious effort, I couldn't duplicate the chocolate pie again.  One tip, if you do stop by this quiet mountain inn, be sure to leave your rain gear and backpack outside or in the entryway and be prepared for the squatting toilet, relics of past days in rural Italy. Don't worry this was the only one of its kind that we saw along the trail as this style toilet is no longer common in the Alps.  Many of the hotels and refuges along this route are fantastic but it's not universal.  A few very small mountain villages that are convenient stops are limited in amenities and to be blunt, could use some sprucing up. However, even these lackluster inns added to the overall satisfaction of this tour and the food was always delicious after a full day on the trail.  
The day-to-day hiking along the Tour du Mont Blanc is a huge highlight. From my experience, the daily miles quickly reset your body and soul from the hunch of computer work, shuttle schedules, meal planning or whatever your daily grind may entail.  Instead, along this route, your job is to hike, take in daily breathtaking views, stopping only when you need a snack break or when a delicious piece of chocolate pie presents itself.  In short, your task is to experience all that the trail has to offer.  I find this part of hiking priceless and what makes it so valuable for the body and soul. As a friendly German woman, Anita, explained, "This is my way to de-clutter my mind and life".  Anita was one of the wonderful people we met during our travels and whom we met again just a few days after our Tour du Mont Blanc good-byes, but this time in Murren in the Bernese Oberland of Switzerland!  
The Tour du Mont Blanc is one of the best ways to spend a holiday.  It will reset both your physical and emotional body to its natural trail state and do so in a way that you won't forget.  Although this is not the most quiet or remote trail in the Alps at all, it is the most popular hiking trail in the Alps for a reason.  It's a special place full of history and beauty and is sure to satisfy your holiday hiking needs and beyond. 
You can read about our story and contact us if you are interested in embarking on this trip of a lifetime.  We offer many different itineraries in the Mont Blanc region and around the Alps.