Private Guided Classic Bernese Oberland Traverse
This private guided tour covers the most scenic and challenging sections of the Alpine Pass Route across the Bernese Oberland…
Private Guided Classic Bernese Oberland Traverse
This private guided tour covers the most scenic and challenging sections of the Alpine Pass Route across the Bernese Oberland…
Activity Level

Moderate to Challenging

,
The Bernese Oberland is truly the land of fairytales. You want this.
Picture waterfalls cascading onto green meadows carpeted with wildflowers, and white-capped mountains surrounding car-free villages that cling to the clifftops. Sound like overkill? It isn't. Come and see. On this private guided tour, you will hike through the Switzerland that people dream of. Clean air, pure mountain streams, and turquoise lakes. Welcome to the Bernese Oberland.
This was our first tour – our home tour – and is still perhaps our best. Come explore our favorite region in the Alps with us, see all the classics plus hidden gems like Obersteinberg and Gasterntal. This tour has it all… jaw-dropping alpine scenery, remote inns, quaint villages, and quiet trails. Our private guides will help make your tour memorable. They can talk about the culture, the flowers, the history, and they make great lunches! A private guide can give you the space you need to truly relax and not worry about a thing.
Itinerary At a Glance
Day 1-3
Schwarzwaldalp to Wengen
Wake to the sound of cowbells. This is the heart of the Alps. We'll hike from a remote hiker's inn to the Eiger-dominated views of Grindelwald, then under the Eiger North Face to car-free Wengen. Stunning.
Day 4-6
Obersteinberg to Murren
Our favorite stop takes a bit of getting to. Obersteinberg is a hidden gem at the far end of the Lauterbrunnen valley. Hiking back in this valley is like hiking back in time. Then to peaceful, car-free Murren, a paradise for hikers. It's hard to beat.
Days 7-8
Murren to Kandersteg
Now the trip gets strenuous, crossing two high passes through the traditional valley of Kiental. One night in a cozy inn, waterfalls galore and one stunning blue lake later, we arrive in sleepy Kandersteg.
Days 9-11
Gasterntal
Now we take a special detour into a little known valley, the Gasterntal. The Yosemite-like walls with bold waterfalls tower over small alpine farms. We'll end our tour here with two nights in a friendly family-run inn. The perfect finish.
View Full Route >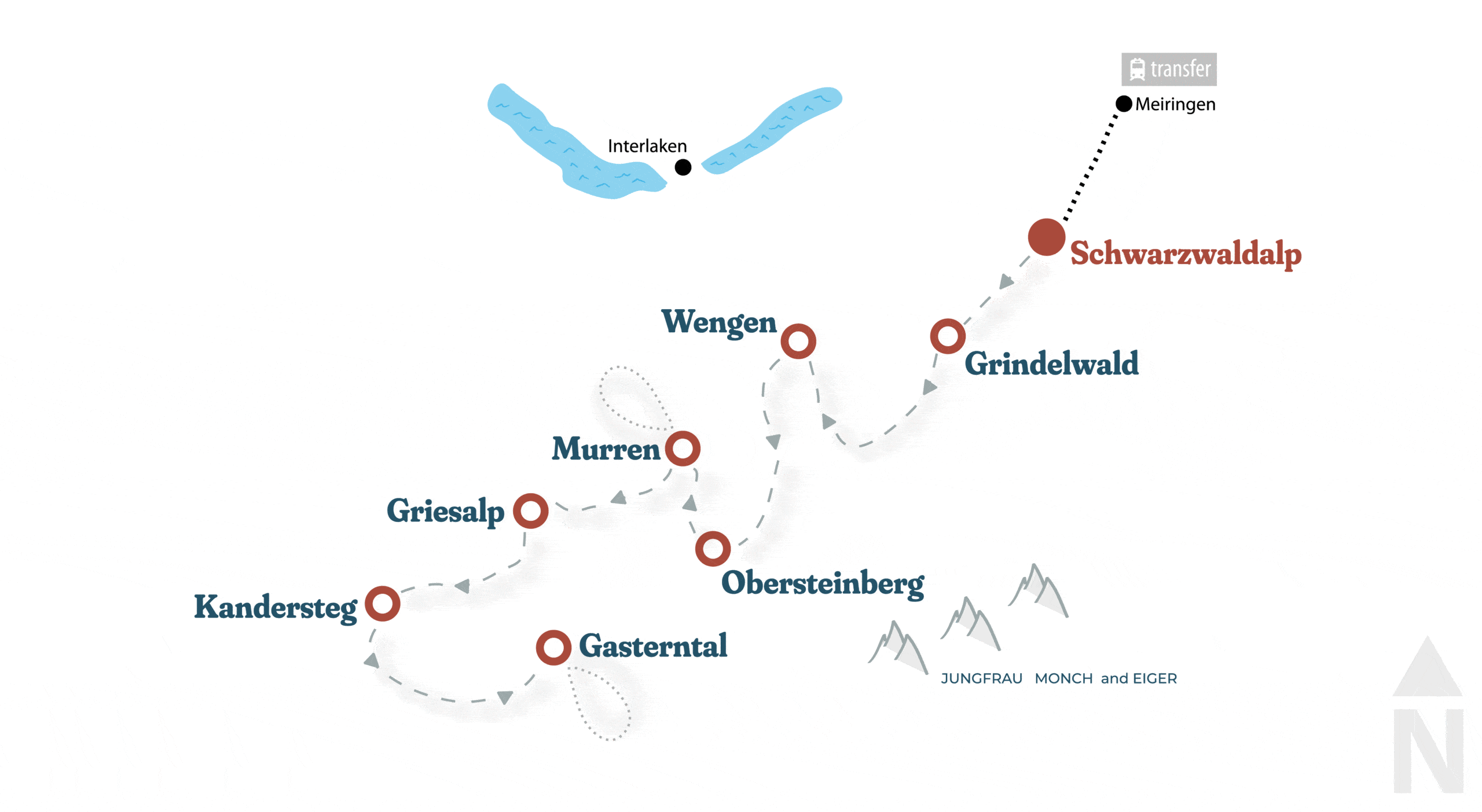 Included
Your tour will be led by an experienced Alpinehikers guide, with guided hikes daily. All transfers to and from trailheads are included. You'll stay 5 nights in 3-star village hotels and 5 nights in cozy mountain inns. All breakfasts, picnic lunches, and 9 dinners are included. Luggage transfers to all village hotels are also part of your tour, 8 of 10 nights.
Train travel to and from the region is not included. You can buy tickets when you arrive, or ask about adding a rail pass to your tour.
Full Itinerary
Day 1
Schwarzwaldalp
Arrive in Switzerland, and transfer by train to the quiet town of Meiringen to start the Bernese Oberland tour.
You'll take a bus ride up to our remote inn and meet your private guide to start the tour.  You'll know you're in the Alps right away. Waterfalls and imposing mountains watch over us, with cows grazing the fields outside, in this relaxing corner of the Alps.
Day 2
Grindelwald
After a hearty breakfast, we'll hike over the Grosse Scheidegg pass and enjoy our first views of the Eiger and of the Grindelwald valley.
With 10,000 vertical feet separating valley from peak, Grindelwald sits at the base of one of the most impressive vertical mountain walls in the world. Perhaps we'll detour via the postcard-perfect Bachsee lake before winding down to the glacier village of Grindelwald and our lovely 3-star hotel.
HIKE: 6-8 hours, 11 miles; Elevation: 3060 ft up, 2720 ft down
Hotel Gletschergarten or Derby
Day 3
Wengen
Today we'll explore the Grindelwald valley and hike to the famous Kleine Scheidegg pass under the Eiger North Face.
The entire day is dominated by great close-up views of the Eiger North Face – perhaps the most notorious mountain wall in the Swiss Alps. We'll descend to the quiet village Wengen for a restful night.
HIKE: 6-8 hours, 12 miles; Elevation: 2960 ft up, 4100 ft down
Day 4
Obersteinberg
Enjoy spectacular views of the Jungfrau and surrounding mountains on the way to Obersteinberg, a remote mountain inn and working farm.
Our trail winds through flowery meadows and past countless waterfalls along the lush Lauterbrunnen valley floor. After a break for lunch, we'll hike to a wild and isolated corner of the Lauterbrunnen valley for a memorable night in one of the most spectacular corners of the Bernese Oberland.
HIKE: 6-8 hours, 10 miles; Elevation: 3230 ft up, 1600 ft down
Day 5
Mürren
We have a couple of trail options today – the first, a panoramic climb over a high ridge with breathtaking views in every direction, the second, a beautiful wooded hike filled with waterfalls.
Both lead through sleepy Gimmelwald to the car-free village of Mürren, with its unparalleled cliffside views of the surrounding mountains. Stay in a comfortable 3-star hotel.
HIKE: 4-6 hours, 5 miles; Elevation: 2100 ft up, 2580 ft down
Hotel Edelweiss or Drei Berge
Day 6
Mürren
There are numerous dayhike possibilities around Mürren. One beautiful trail leads up to the local peak, Birg, for superb all-around views, and past a small glacial tarn.
Or feel free to just unwind in one of the most scenic and relaxing villages in the Alps. Dinner will be on your own tonight in Murren.
HIKE: 5-7 hours, 8.5 miles; Elevation: 2040 ft up, 2040 ft down
Hotel Edelweiss or Drei Berge
Day 7
Griesalp
Our trail meanders back into the deep recesses of the Sefinen valley before crossing the first of two major passes, Sefinenfurke, into the tiny hamlet of Griesalp.
A moderate but long climb past Rotstock hut and over the pass, followed by a very steep descent, is rewarded by a friendly welcome at our rustic but pretty inn.
HIKE: 7-9 hours, 10 miles; Elevation: 3200 ft up, 3910 ft down
Waldrand or Hotel Griesalp Inn
Day 8
Kandersteg
We'll need an early start for our most challenging day of the tour. Crossing the second major pass, Hohtürli, you'll hike past glaciers and high mountain peaks to the jewel-like Oeschinen lake – an emerald-green lake surrounded by cliffs which has to be seen to be believed.
For bad weather, or if you simply don't feel like tackling the pass, you can take a bus around to Kandersteg and enjoy a mellow dayhike up to the lake instead. We stay in a 3-star hotel in the quiet village of Kandersteg for the night.
HIKE: 8-10 hours, 10 miles; Elevation: 4850 ft up, 5580 ft down
Day 9
Gasterntal
We'll quickly escape town on a quiet path leading south towards the Klus gorge. The power of the Kander river is impressive as you climb through this narrow gorge into the hidden Gasterntal valley.
This is a picture-perfect hideaway – a small, U-shaped valley, carpeted with wildflowers and guarded by savage cliffs. Waterfalls bursting from the sides of cliffs add to the scenery. Stay in a pleasant inn with great mountain and waterfall views.
HIKE: 5-7 hours, 10 miles; Elevation: 1970 ft up, 740 ft down
Day 10
Gasterntal
For our grand finale we'll choose from a couple great hikes. One of our favorites is a strenuous climb to the nearby Lötschen pass.
Old Roman trails lead us through meadows and woods, with a short stretch across a glacier, to the small hut at the pass where the views to the south are superb! We'll return to the same inn at the bottom of the valley that night. A fitting way to end a great tour.
HIKE: 7-9 hours, 7 miles; Elevation: 4060 ft up, 4060 ft down
Day 11
depart
Today we say good-bye to the Bernese Oberland and depart for Kandersteg and our post-tour destinations.