If yesterday's hike — for which I'd trained not once — challenged my positivity, I expect today and tomorrow will be a crash course in keeping the faith while keeping the pace.  I'm not too worried.  Mountain huts are one of the miracles of Switzerland.  I've been fantasizing about this for more than a year.  You hike all day, but instead of having to camp at the end of it, you get to enjoy a warm hotel and a hot meal.  The next day you either hike to another hut, or back to a larger village where you're met by the suitcase you sent ahead from the last village.  Good system.
The train ride down from Wengen to Lauterbrunnen is cloudy (again) and brief.  We're a somewhat quiet group, hushed by the mist maybe, each with just a daypack and lots of layers.  Our planned adventure will take us up the valley from Lauterbrunnen, stopping first at Trümmelbach Falls, and then briefly to visit longtime Alpinehikers friends Marc and Di at the Alpenhof in Stechelberg before heading deeper into the Swiss equivalent of wilderness (a UNESCO World Heritage site), and up to the Berggasthaus Tschingelhorn, our mountain hut for the night.
This is our first stop:
Trümmelbach Falls is a tourist attraction, no doubt, but impressive nonetheless.  Leave it to the Swiss to carve a trail into a mountain so we can see how the river cuts through the rock before launching itself off the cliff face in a twinkling burst of liquid glacier.
Apparently the Alps were J.R.R. Tolkein's inspiration for his trilogy.  I can see why.  Gollum and his Precious seem enchantingly near as we climb deeper and higher up a winding staircase past curving cliff walls, dripping grottos, and the thundering falls just beyond the guard rail to our right.
I'm enjoying the wild crash and spray, keeping the hood up on my raincoat.  Everything is green and grey and silver and dripping.  We snap a few pictures, failing to capture the scale of what we're seeing — a common theme throughout the trip.  Up and back down again takes less than an hour, and it's a relief to be out in the open after the slight claustrophobia of too many tourists in too small a space.
The valley floor is fairly flat, so our next few miles are just a stroll, with lots of opportunities to pick wildflowers and warm up for the hike ahead.  Here are some llamas, there are some goats, the glacially fed Weisse Lütschine river is keeping us company, wide and bright with skipping riffles.  The sun is cutting the clouds enough that we can strip down a layer, though none of us are interested in matching guide Matt's choice to wear shorts.
Walking, walking, chatting and walking.  It's pleasant and beautiful and easy-going for the first few miles… and then we start into the woods and the trail changes direction.  It points straight UP.
Trail like a wet staircase.  In the soaking rain.  For hours.
I'm thoroughly wet with sweat from the inside and rain from the outside.  These miles have me taking very deliberate steps.  I pause to smile through the discomfort, and realize I've met myself coming in from another room.  Two of me are walking along that trail: a younger me that's been tagging along filled with insecurity and discomfort, and the me I am now… ready to claim her place, to take over from here.  Pausing for a moment, last in line of our little group, I let this realization sink in.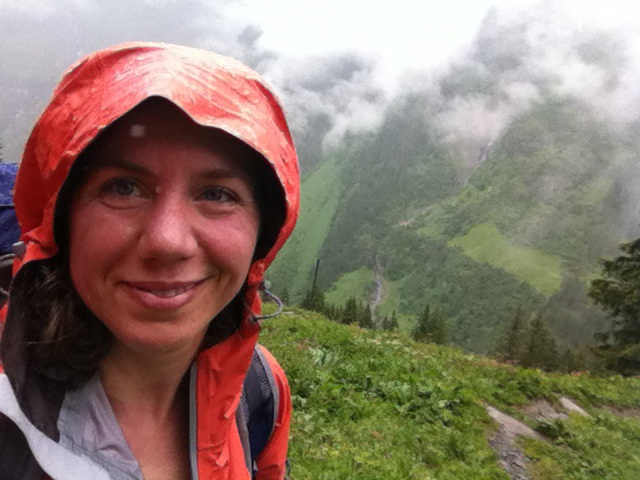 Grinning and completely content, I hustle to catch up.  The dripping trees and thick under story open out on a steep, open meadow and suddenly we're there.  The Tschingelhorn experience includes two calm and friendly Tibetan Terriers, pastry available for purchase, and complimentary hot tea.  As soon as I've stripped out of my wet shoes and coat in the entry hall, thrown my bags in the room upstairs, and peeked out the windows at the darkening cloud cover, I pull on another sweater and make my way back downstairs with my journal.  Puppies and pastry are waiting!
I chat with a couple of older women sitting cozily in the front room.  And I do mean older: 84 (it's the new 70).  They visit Switzerland every summer from Holland, making their way slowly but surely up to this mountain hut where they'll stay for more than a week, resting, taking little day excursions, and spending most of their time knitting and making small, accurate watercolor sketches of the local plants.  I'm chatting with them, looking up a plant in their book, making friends with the dogs… And then I literally fall asleep at the table waiting for the rest of the group and our dinner.  Asleep, as in OUT.  Like a light.  I've seen this happen to toddlers, but it never happens to me.  Thankfully I don't snore or drool, and I wake up to a hearty plate of this:
Throwing my no-dairy/wheat-free dietary restrictions to the wind, I dive in.  Käseschnitte.  Vat o' cheese over wine-soaked bread and some kind of luscious ham.  It's tasty.  It's filling.  And this time I make it to my bed before falling back asleep.